All your favourite berries combine to bring you this summery dessert is absolutely packed with fruity flavour.
Berry Dream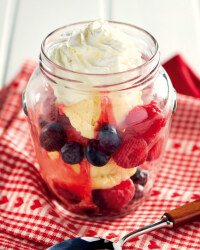 Recipe Information
Ingredients
6 Scoops Vanilla Ice Cream
2 tbsp Strawberry Sauce
Blueberries
Raspberries
Squirty Cream
For the Strawberry Sauce
225g Strawberries
25g Sugar
25ml Water
¼ Lemon
Find your ingredients online on Click & Collect or find your nearest store using our Store Finder.
Method
To make the strawberry sauce:
Wash and chop the strawberries and place in a pan over a gentle heat with the sugar.
Add the water and lemon juice and gently bring to the boil.
Leave to cool before serving.
Place three scoops of ice cream in each bowl, drizzle over the strawberry sauce, and add the blueberries and raspberries.
Top with squirty cream.
Top Tip:
Serve in a tall jar and layer the fruit throughout the ice cream for an extra fruity kick.