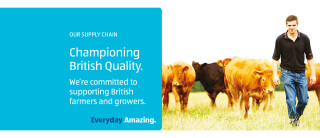 We're committed to sourcing our products from the UK
As part of Aldi's commitment to championing Great British quality, a lot of our products are sourced from the UK. Aldi were the first retailer to sign the NFU Fruit & Veg pledge, which is a set of commitments designed to support British farmers.
In fact, our entire core range of fresh meat and milk is from British, Red Tractor approved farms. We are the market leader in the amount of fresh produce we sell which is British.
Needless to say, we are committed to supporting British farmers, growers and suppliers. But don't take our word for it. Suppliers voted Aldi the most compliant Supermarket with the Groceries Supply Code of Practice (GSCOP) for the fifth year running in the Grocery Code Adjudicators (GCA) 2018 Annual Survey.
78% of over 1,000 respondents to this year's survey Agreed or Strongly Agreed that Aldi treated its Supplier's fairly. The Supermarket with the lowest score on this measure achieved 54%, Aldi's rating in 'Strongly Agreed' at 43% was 13% better than the next best rated Supermarket.
We know you care where your food comes from, so let us introduce you to a few of our suppliers.
The British Farming Charter
Our commitment to British farmers is why we've signed up to the Back British Farming Charter. We want to meet our customers' demand for British produce, and by supporting British farming we can become a more food secure nation– and not rely on imports.
In return Aldi, as a retailer, can offer our customers the freshest British produce of the highest quality, every day, at the best price.
"We are pleased that Aldi is helping to support the future of the British farming sector by signing up to the NFU's charter. Aldi customers will be able to enjoy more of the high quality products that are synonymous with British agriculture." Meurig Raymond, NFU President.
Find out more on the NFU website