A tasty vegan alternative, with cauliflower steaks served in a burger bun.
Buffalo Cauliflower Burgers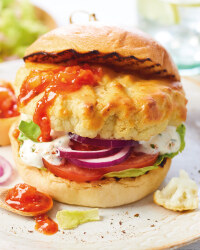 Recipe Information
Ingredients
1 Cauliflower
4 Vegan Brioche Burger Buns
½ Little Gem Lettuce, shredded
2 Vine Tomatoes, sliced
1 Red Onion, sliced
200g pack Salsa
For the batter
100g Plain Flour
150ml Soya Milk
1 tsp Garlic Granules
1 tsp Ground Cumin
1 tsp Paprika
Sea Salt and Black Pepper
For the ranch sauce
200g Plain Soya Yogurt
1 tsp Smoked Paprika
½ tsp Chilli Powder
10g Fresh chopped Parsley
Method
Pre-heat the oven to 200°C/Gas Mark 6.
Trim the leaves off the cauliflower – but keep the stem.
Cut the cauliflower in half, vertically.
Then cut 2 'steaks' from each half.
Put the flour in a bowl, along with the garlic granules, cumin and paprika, then season with salt and pepper and whisk well.
Add the soya milk to form a thick batter.
Dredge the cauliflower steaks in the batter – place on a lined baking tray and roast for 30 minutes – turning once during the cooking time.
In the meantime, make the sauce by mixing the soya yogurt with the paprika and chilli powder, then stir in the parsley.
Finally, toast the cut sides of all the burger buns, add the tomato salsa on each base, a battered cauliflower 'steak', ranch sauce, tomatoes, lettuce and onion rings and serve immediately.