Vegetable pastry filled with butternut squash, Brussels sprouts, cheese and pecan nuts.
Butternut and Brussels Pie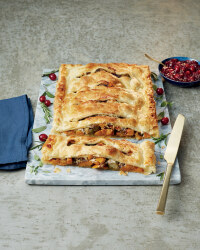 Recipe Information
Ingredients
1 Butternut Squash
300g Brussels Sprouts
2 Medium Red Onions
200g Lighter Garlic & Herb Soft Cheese
750g Puff Pastry
35g Pecan Nuts
3g Fresh Rosemary
100ml Olive Oil
Sea Salt
Black Pepper
1 Medium Egg
10ml Milk
Paprika
Method
Pre-heat the oven to 200°C/Gas Mark 6.
Peel the squash. Cut into small chunks, discarding any seeds.
Trim the sprouts. Cut in halves.
Peel and finely chop the onions.
Put the squash, sprouts and onions on a large baking sheet.
Drizzle the oil, and season with salt and pepper.
Roast in the oven for 25 minutes.
Allow to cool and put into a bowl.
Add the soft cheese.
Finely chop the rosemary and the pecan nuts, and add to the mix.
Mix all ingredients together.
Lightly grease a large baking sheet and put a pastry sheet on top.
Add the mixture on top.
Whisk the egg with the milk and paprika, then brush it on the exposed pastry.
Put the other sheet of pastry on top of the mixture.
Cut 5 slashes and brush all over with the egg and milk wash.
Bake in the oven for 40 minutes.