Bacon, sausage, eggs, black pudding, mushrooms and toast – everything you need for a delicious full English breakfast.
Full English Mother's Day Breakfast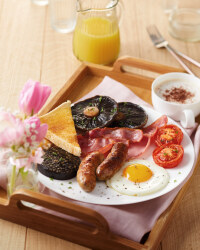 Recipe Information
Ingredients
2 X Specially Selected Pork Sausages
2 X Rashers Specially Selected Dry Cured Back Bacon
1 X Slice Black Pudding
2 X Flat Mushrooms
1 X Large Vine Tomato
1 X Large Egg
1 X Slice Toast
A little Sunflower Oil
Method
Preheat the grill.
Grill the sausage for 10/12 mins, turning as you cook.
Grill the bacon for 7 mins, turning as you cook.
Cut the tomato in half, and grill along with the mushrooms for 4 mins.
Heat a little oil in a frying pan, sauté the black pudding for a few mins each side, add the egg and fry till just set.
Toast the bread and serve.