Warm ginger, cinnamon and vanilla combined in an elegant festive souffle.
Gingerbread Soufflé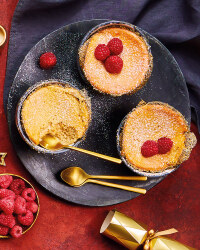 Recipe Information
Ingredients
250ml Whole Milk
34g Self Raising Flour
Pinch of Salt
175g Demerara Sugar
30g Unsalted Butter
1 tsp Ginger
½ tsp Cinnamon
¼ tsp Ground Cloves
Pinch of Black Pepper
2 tsp Vanilla Extract
6 Eggs, separated
1 tsp Lemon Juice
For the ramekins:
1 tbsp Butter, melted
3 tbsp Demerara Sugar
Fresh Cream, to serve
Method
Pre-heat the oven to 180°C/Fan 160°C/Gas Mark 4.
Whisk together the milk, sugar, flour and salt.
Transfer to a pan and bring to the boil.
Remove the pan from the heat.
Whisk in the butter, spices, black pepper and vanilla extract.
Leave to cool for 15 minutes before whisking in the egg yolks.
Grease the ramekins with the melted butter and sprinkle with sugar.
Beat the egg whites and lemon juice until stiff peaks form.
Fold 1⁄3 of the egg whites into the soufflé mixture, being careful not to knock out too much of the air.
Repeat with the remaining egg whites before dividing the mixture between the ramekins.
Bake the soufflés in the oven for 25 minutes.
Serve immediately with a drizzle of fresh cream.