Aubergine brushed with a spicy jerk sauce then cooked on the BBQ with Caribbean flavours
Grilled Jamaican Jerk Aubergines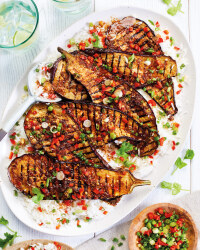 Recipe Information
Ingredients
2 Aubergines
2 tsp Ground Coriander
1 tsp Allspice
2 tsp Smoked Paprika
5g Fresh Thyme
5 Cloves of Garlic
20g piece Fresh Ginger, peeled
120ml Soy Sauce
Juice of 2 Limes
70ml Maple Syrup
50g Solid Coconut Oil
1 Red Chilli
2 Spring Onions
6g Fresh Coriander
Sea Salt and Black Pepper
Method
Slice the aubergines, lengthways, into medium slices.
Peel and mince the garlic.
Grate the fresh ginger.
Chop the thyme finely.
Finely chop the chilli (with seeds if you want a hotter dish).
In a bowl, mix the ground coriander, allspice, paprika, garlic, ginger, thyme, chilli, soy sauce, lime juice and maple syrup, then season with salt and pepper.
Melt the coconut oil until liquid, add to the bowl and mix well.
Brush some of this sauce over the aubergines. Grill, griddle or barbecue each side for about 5 minutes, keeping them warm while you cook the rest.
Once all cooked, heat the remaining sauce and pour over the slices.
Chop the coriander and thinly slice the spring onion, scattering over the slices and serve.
Great served with basmati rice.