Marinaded grilled mushrooms baked or grilled and served with a spicy, tangy chimichurri.
Grilled Portobello Mushroom Steaks with Avocado Chimichurri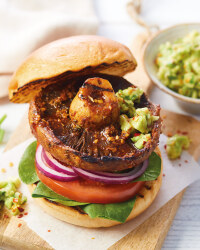 Recipe Information
Ingredients
4 Large Flat Portobello Mushrooms
50ml Balsamic Vinegar
50ml Olive Oil
1 tsp Ground Cumin
1 tsp Smoked Paprika
1 tsp Dried Oregano
3 Garlic Cloves
Sea Salt and Black Pepper
4 pack Vegan Brioche Burger Buns
20g Spinach
1 Large Red Onion
4 Vine Tomatoes
For the Chimichurri
2 Avocados
1 Small Red Onion
3 Garlic Cloves
15g Flat Parsley
½ tsp Chilli Flakes
50ml Olive Oil
Zest and Juice of 1 Lemon
Zest and Juice of 1 Lime
Method
To make the marinade for the mushrooms, peel and mince the garlic, mix with the balsamic vinegar, olive oil, paprika, cumin and oregano, then season with some salt and pepper and mix well.
Put the sauce in a flat dish, add the mushrooms and let them soak for 60 minutes, turning a couple of times.
To make the chimichurri, peel and mince the garlic, finely chop the red onion and parsley. In a bowl, mix together the olive oil, zest and juices from the lemon and lime, garlic, chilli flakes, parsley and onion and mix well.
Cut the avocados in half, remove the stones, then scoop out the flesh and chop finely.
Add to the rest of the mix in the bowl and fold through.
Cook the mushrooms on the barbecue for 10 minutes, turning once as you cook, and baste with any remaining sauce.
Alternatively, bake them in a moderate oven, along with any remaining sauce, for 15 minutes.
Serve the mushrooms on the toasted buns – with spinach leaves, sliced tomato and red onion and drizzled with the chimichurri.