A delicious, nutritious and super-quick dinner, packed with protein and big on flavor.
Helen Westwood's Creamy Salmon Pasta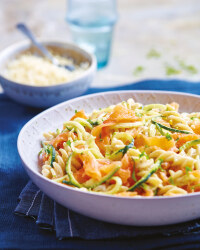 Recipe Information
Ingredients
200g Wholewheat Fusilli Pasta
2 x 200g packs Scottish Smoked Salmon
250g pack Courgetti – courgette spirals
200g pack Reduced Fat Soft Cheese with Garlic and Herbs
50ml White Wine
Juice of ½ Lemon
To serve – grated Parmigiana and Chopped Fresh Parsley
Method
Bring a large saucepan of water to the boil, add a splash of olive oil and some salt. Next, add the pasta and cook for around 8 minutes before draining.
Slice the salmon into strips. Then, rinse the pan and add the salmon, along with the courgette spirals, soft cheese, pasta, white wine and lemon juice and the smoked salmon. Now, gently heat through until hot.
Serve, sprinkled with Parmigiana cheese and chopped parsley.