Deep filled puff pastry pie layered with a creamy mix of fresh vegetables.
Layered Vegetable Pie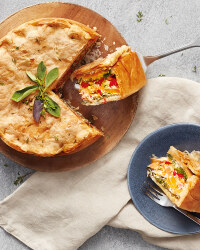 Recipe Information
Ingredients
230g Sweet Potatoes, peeled
230g Carrots, peeled
1 x large Courgette
1 x pack 2 Red Pointed Peppers
125g Kale
240g bag Baby Spinach Leaves
2 x medium Eggs
200ml Lighter Crème Fraîche
1 x clove Garlic
40g Salted Butter
15g Tomato Purée
Sea Salt and Black Pepper
25ml Olive Oil
1 x 375g pack Ready Rolled Shortcrust Pastry
1 x 375g pack Ready Rolled Puff Pastry
10 ml Milk
1 x 20cm springform cake tin
Method
Line the base of the tin with some tin foil. Pre-heat the oven to 180°C/Gas Mark 4.
Cut the peppers in half lengthways, remove any white pith and seeds. Put onto a baking tray, drizzle over 15ml oil and bake in the oven for 15 minutes.
Thinly slice the sweet potatoes, boil in some salted water for 5 minutes, drain and allow to cool. Do the same with the carrots.
Thinly slice the courgette, blanch in some boiling water for 3 minutes, drain and cool.
Blanch the kale in some boiling salted water for 5 minutes, then drain well, squeezing out as much liquid as possible.
Put the spinach leaves in a bowl, pour over some boiling water and leave for a couple of minutes, then drain, squeezing out as much water as possible.
Peel and mince the garlic. Put into a bowl along with the crème fraîche and the tomato purée. Add the eggs and whisk well. Melt the butter and add to the mix. Season well with some salt and black pepper.
Grease the tin with the remaining oil. Line the cake tin with the shortcrust pastry – trim the top.
Put a layer of kale in the bottom, then a layer of carrots, then the courgettes. Pour over half the egg mixture, then add the red peppers and the spinach. Pour over the remaining egg mixture. Top with the sweet potato.
Lay the sheet of puff pastry over the top and trim. Pinch the pastry to seal.
Make a few cuts in the top of the pastry to allow the steam to escape. Brush the top with a little milk.
Bake in the oven for 30 minutes. Then turn down the temperature to 170°C/Gas Mark 3. Loosely cover the top with tin foil and cook for another 70 minutes.
Take the pie out of the oven and allow to rest for 20 minutes. Carefully remove from the tin and slice.