A tasty summer favourite, these Loaded BBQ Skins can be served as a main or a side.
Loaded BBQ Skins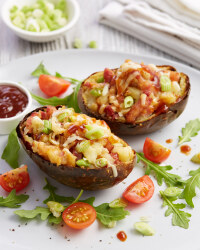 Recipe Information
Ingredients
4 Baking Potatoes
2 tbsp Olive Oil
80g Smoked Pancetta
4 Spring Onions, finely chopped
40g BBQ Sauce
50g Grated Cheddar Cheese
1 bag Rocket Leaves
100g Cherry Tomatoes
Method
Pre-heat oven to 200°C/400°F/Gas Mark 6.
Line a baking tray with tin foil and pierce the potatoes all over with a fork.
Place onto the tray, drizzle over oil and bake for approximately 1 hour 10 minutes until cooked through, then allow to cool.
In the meantime, heat a small frying pan and gently fry the pancetta until golden and crisp, then set aside.
Place rocket leaves into a bowl and scatter over the tomatoes.
Pre-heat a grill or barbecue.
Halve each potato, scoop out the flesh into a mixing bowl, add the spring onions and pancetta and mix together.
Spoon the filling into the potato jackets and top each half with a drizzle of barbecue sauce and a sprinkle of grated cheddar.
Place the potatoes, filling side up, under the grill or barbecue, covering with a sheet of tin foil or the barbecue lid.
Cook for 5-10 minutes, until the skins are crisp and the cheese has melted and serve with the salad.