A stunning edible bouquet with pink and green cupcake flowers almost too good to eat.
Mother's Day Cupcake Bouquet Recipe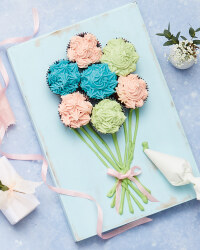 Recipe Information
Ingredients
1 x The Pantry Cake Mix
500g The Pantry Vanilla Frosting Tub
Alternatively you could make the frosting using the following:
200g Unsalted Butter (softened)
400g Icing Sugar
2 tbsp. Vanilla Extract
2 tbsp. Milk
Pink, Blue and Green Food Colouring
Cupcake Tin
7 Cupcake Cases
4 x Piping Bags (3 fitted with a star tip nozzles)
Bow made from ribbon
Method
Pre-heat the oven to 180C/160C fan/gas 4.
Make the cake batter as per the pack instructions.
Spoon the cake mix into the 7 cupcake cases (if the cake mix makes more than 7 these can still be baked but aren't needed for the bouquet).
Bake for 12-15 minutes until a cocktail stick inserted into the cake comes out clean.
Leave the cupcakes to cool and make the frosting (if not using ready made).
Use an electric hand mixer to beat the softened butter until light and fluffy.
Gradually add the icing sugar, vanilla extract and milk until fully incorporated and smooth.
Place 1/3 of the buttercream into a separate bowl and add a few drops of green food colouring then mix until smooth and place into the plain piping bag (with no star nozzle).
Split the remaining buttercream between 3 bowls and add a couple of drops of food colouring to each.
Decorate the cupcakes with the pink, green and blue buttercream (using the star nozzle piping bags) to create a flower design and then arrange them on a platter.
Use the green buttercream to pipe the flower stems under the cupcakes (on the platter) to create a bouquet and add the ribbon.
Alternatively, add a couple of drops or green food colouring to marzipan or ready roll icing and knead until green then roll into stems and finish with the bow. Add the pink food colouring to the remaining buttercream.