A refreshing cocktail for spring with pine needles and citrus flavours.
Pamplemousse Gin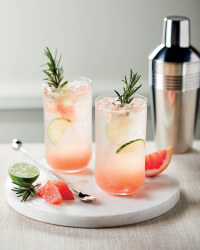 Recipe Information
Ingredients
80ml Needle Gin
Juice of 1 Red Grapefruit
Juice of 1 Lime
Sprigs of Fresh Rosemary
Tonic Water
Ice Cubes
Method
Put the grapefruit and lime juices together with the gin in a cocktail shaker, along with a sprig of rosemary and some ice cubes.
Shake well, then strain into two large gin glasses over ice.
Top up with tonic water, garnish with lime wedges and rosemary to serve.