Delicious dip made from garlic, chickpeas, cooked peas, paprika and cumin.
Pea Houmous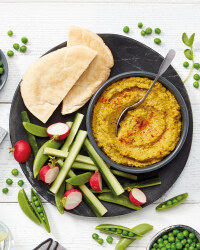 Recipe Information
Ingredients
200g Defrosted Frozen/Chilled, Freshly Cooked Peas
400g tin Chickpeas, drained
2 Garlic Cloves
120ml Olive Oil
1 tsp Ground Cumin
1 tsp Smoked Paprika
1 tsp Ground Coriander
Juice of 1 Lemon
8g Fresh Basil, chopped
Method
Peel and mince the garlic.
Put all the ingredients into a food processor and blend.
Serve in a bowl, drizzle with a little more olive oil and sprinkle with paprika.