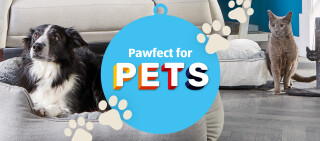 Because life is better with pets
They're family. We love them. And having them in our lives boosts our own health and wellbeing every day. Yes, having a pet is good for our health. In fact, 80% of pet owners believe having a pet has helped us get through lockdown. All the more reason to look after them as best as we can. And we've got lots of nutritious foods, fantastic toys, tasty treats and top tips, to help you do just that.
Super scrummy treats and rewards
We know exactly how to keep those doggie tails wagging and pussy cats purring with some delicious and nutritious treats. They're also a fun way to train and reward your pets. Lucky for you we have lots of pet treats to choose from, from healthy chews for teeth and gums, to little pockets of deliciousness.
Did somebody say din dins?
We know that pet nutrition is key for your pet's growth and development, ensuring a happy, healthy life. That's why our pet food range has something for everyone from hypo-allergenic, high-protein and grain-free recipes to a choice of dry, canned or pouch.
Dry Food
Reward your pet with a special meal from our improved healthy dry food range, including Langhams 26% turkey, Earl's Worker Complete, high protein options and Vitacat's Healthy Balance.

Canned Food
Choose from Jelly and Gravy in the Aldi tinned food range. All easy to serve and deliciously tempting meals, complete with all the vitamins, minerals and nutrients your pet need.

Pouches and Pate Trays
Try our premium new tender pate range for cats and dogs. Meals rich in all the nutrients your pet needs, now with 100% recyclable packaging.
Top gifts for that special some-pawdy
A luxurious bed, a scratchy post, a new brush and a new favourite toy. Just a few of the great pet products coming in to store and online at Aldi all year around that you can spoil your furry friend with. Have a look below to see if you can find something pawfect from our Specialbuys range.
Why having a pet is good for your health
There are so many health benefits of owning a pet, from getting everyone out for a walk to improving social skills and learning about responsibility.
How pets help us cope
A study from the University of York and the University of Lincoln found having a pet was linked to better mental health. Over 90 per cent of respondents said their pet helped them cope with the lockdown and 96 per cent said it helped keep them active.
How to take care of your pets
Having a pet is like having a best friend, so you need to look after them. Keeping your cats and dogs happy and healthy is top priority. So, help them reach their potential with a few top tips about how to take the best care of your pets
Give them a healthy diet
Ensure your pet has a healthy diet with lots of nutritious and healthy options to ensure they grow and develop as healthily as possible. Check out our pet food range.

Avoid toxic foods
Some foods aren't great for pets, e.g. onions, raisins, chocolate, garlic and avocado. If your pet is sick, remove their food & leave water out. See a vet if they continue to be ill.

Make sure they can explore
Dogs need regular walks and love to play. So, make they get lots of fresh air. And if you're a cat lover, make sure they have easy access to come and go as they please.
Make time for playtime
Pets need to be stimulated as well as exercised. Cats enjoy regular grooming and love things like scratching posts. Choose a special toy just for them in our Specialbuys range.

Get regular check-ups
Annual vet visits will help you stay on top of everything from fleas and worms or other nasty bugs. If you have any problems with pet health or wellbeing, see your vet.

Reduce anxiety
Cats get anxious if they don't feel good which means ensuring a stress free environment – such as great places to perch or hide. Cat trees and scratching posts are a good start.
Everything you want to know about cats and dogs
Look no further. We have all the answers you need when it comes to caring for your animals.