This colourful salad is a wonderfully tasty option for lunch, dinner or as a side-dish at barbecues.
Potato & Avocado Salad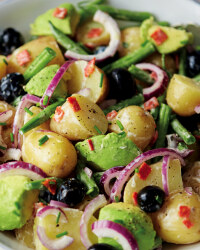 Recipe Information
Ingredients
500g organic salad potatoes
2 ripe Avocadoes
200g green beans
1 sweet onion
50g black pitted olives
120g mayonnaise
Juice of 1 lemon
50g Pamplona Chorizo
6g fresh chives
Sea salt and black pepper
Method
Cut the potatoes into medium size chunks, boil in some salted water for about 6/7 mins till tender – then drain.
Trim the beans and cut into 3cm pieces.
Peel, halve and thinly slice the onion .
Cut the avocados in half lengthways, remove the stone and using a teaspoon scoop out the flesh in balls - toss in half the lemon juice to prevent browning.
Chop the chorizo finely and add to the mayonnaise along with the remaining lemon juice.
Chop the chives finely and add this to the mayo, season with some black pepper.
Assemble the salad – Put the potato, avocado, black olives, sliced onion in a large bowl, gently toss with the mayonnaise dressing.