Ice lollies for adults made with blended grapes, white rum, lime and mint.
Red Grape Mojito Ice Lollies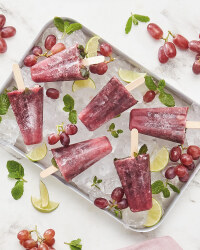 Recipe Information
Ingredients
360g Red Grapes
75ml White Rum
Lime (juiced)
Zest of 1 Lime
2 tbsp. Caster Sugar
2 tbsp. Fresh Chopped Mint
Method
Quarter 60g of the red grapes and leave to one side.
Place all of the remaining ingredients in a blender and blitz for 1-2 minutes until the grapes have broken down.
Pour between the lolly molds and add the grape chunks in.
Place into the freezer to freeze overnight.