These stuffed rolls are a perfect accompaniment to soups and stews, or simply served as a side at your dinner party.
Stuffed Crusty Bread Rolls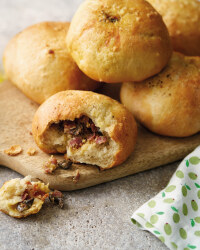 Recipe Information
Ingredients
500g White Crusty Bread Mix
300ml Lukewarm Water
45g Solesta Pitted Black Olives
45g Cucina Sundried Tomatoes
2 tbsp Specially Selected Pesto Genovese
½ Casa Barelli Italian Salami Selection
1 Ball Cucina Mozzarella
Olive Oil
Salt Pepper
Method
Gradually add the warm water to the white crusty bread mix until the flour is all combined and the mixture has formed dough.
Then, on a floured surface, knead the dough for 10 minutes until the dough springs back if you press your finger into it. Leave the dough to rise until it has doubled in size, around 20 minutes.
In the meantime, roughly chop the olives, sundried tomatoes, salami and mozzarella together and mix through the pesto to make the filling for the rolls.
When the dough has doubled in size, split the mixture into 10 equally-sized balls.
Then press your finger into the dough ball and add some filling to the middle then close the dough around the filling the hide it.
When the filling has been equally divided between the 10 dough balls brush a little olive oil over each dough ball and sprinkle a little salt and pepper over them. Then leave them on an oiled baking tray (this will make the bottoms crisp) to rise again for another 15 minutes.
Pre-heat the oven to 230°C/450°F/Gas Mark 8 and when the dough balls have risen bake them for 30-40 minutes.
Leave them to cool slightly and they are ready to eat.