Fun afternoon tea sandwiches stacked with a selection of toppings.
Tea Pop Sandwiches - The Greek One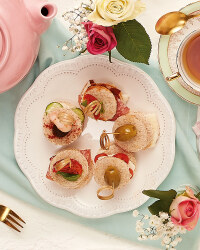 Recipe Information
Ingredients
6 x slices White or Wholemeal Bread
6 x slices Mixed Herb Chicken Round Slices
2 x Vine Tomatoes, cut into 6 slices
70g Soft Goat's Cheese
6 x Giant Halkidiki Olives
6 x Cocktail Stick
s 1 x 6mm Pastry Cutter
Method
Cut 3 rounds from a slice of bread.
Spread the tops with some goat's cheese.
Start with a round of bread, top with a slice of chicken, then another round of bread, then a slice of tomato, then the last round of bread, topped with an olive and cocktail stick.
Other Tea Pop Sandwiches recipes:
Tea Pop Sandwiches - The Italian One