Sweet, homemade chocolate truffles with figs and walnuts.
Fig, Walnut and Chocolate Truffles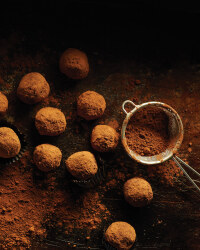 Recipe Information
Ingredients
1 pack of 4 Fresh Figs
100g The Pantry Walnuts
125g Moser Roth 70% Dark Chocolate
50g Greenvale Salted Butter
40g The Pantry Cocoa Powder
Method
Wash the figs and remove the stalks. Chop figs into chunks. Put the walnuts and figs into a food processor and blitz until you have a coarse paste.
Melt the chocolate and butter in a bowl over a pan of boiling water, making sure the bottom of the bowl doesn't touch the water. Once melted, add the fig and walnut mix. Stir well to combine.
Allow to cool, then refrigerate for a few hours until firm. Roll spoonfuls into balls about 15g each, then roll in the cocoa powder. Keep in the fridge until needed