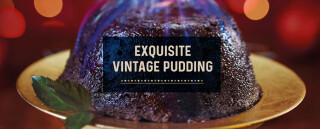 Meet our Christmas pudding supplier
Isle of Man's Master Pudding Maker, Karl Berrie, was schooled at Switzerland's Richemont Centre of Excellence. He believes great puddings are all about the ingredients. That's why our Specially Selected Exquisite Vintage Christmas Puddings boast only the finest ingredients around.
Decadent and delicious
"We spend an incredible amount of time sourcing the highest quality ingredients," explains Karl, including world-renowned vine fruits. "We also feed our puddings with 40% VS Cognac, Solera Sherry and an infamous Quinta Do Noval Ruby Port."
Festive and fruity Christmas recipes
Get ahead of this year's seasonal baking with a tasty homemade Christmas pud, or a fabulously festive Christmas cake. Simply join us in the Taste Kitchen for all of your Christmas inspiration.