The ultimate festive dessert. An edible Christmas tree packed with meringue, cream and fruit. Yes please!
Pavlova Christmas Tree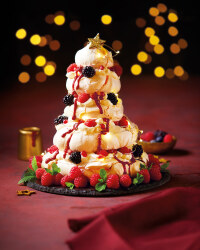 Recipe Information
Ingredients
4 Egg Whites
200g Caster Sugar
Pinch of Salt
For the filling:
450ml Double Cream
1 tsp Vanilla Extract
1 tbsp Icing Sugar
200g Strawberries, sliced
50g Pomegranate Seeds
100g Blackberries
3 Sprigs of Fresh Mint
Method
Pre-heat the oven to 140°C/Fan 120°C/Gas Mark ½.
Using a stand mixer or electric hand mixer, beat the egg whites until firm and fluffy.
With the mixer still running, add a spoonful of sugar at a time.
Add the salt and mix for a further 5 minutes.
Draw a 16cm wide circle to one side on a sheet of baking paper and fill with 5-6 dollops of the meringue mixture.
Next to this, spoon the remainder into 5 more decreasing circles, piling a plume of meringue on top of the smallest circle for the top of the tree.
Bake in the oven for 1 hour 45 minutes, then leave to cool in the oven with the door open.
When the meringue is completely cool, whisk the double cream, vanilla extract and icing sugar together until glossy, firm peaks form.
Starting with the largest meringue, cover with a layer of cream, strawberries, pomegranate seeds, blackberries and mint.
Top with the next meringue disk and repeat until your Christmas tree is complete.
Keep refrigerated until serving.