This chilli is great for all occasions, especially family parties or a cold evening.
Butternut Squash and Bean Chilli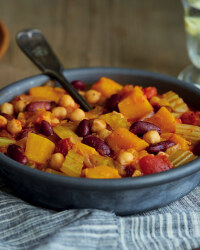 Recipe Information
Ingredients
1 Butternut Squash
1 Large Onion
2 Sticks of Celery
3 Fresh Chillies
2 Cloves Garlic
1 tsp Stonemill Paprika
400g tin Sweet Harvest Chickpeas
400g tin Sweet Harvest Red Kidney Beans
2 x 400g tins Sweet Harvest Chunky Chopped Tomatoes with Herbs
1 Quixo Vegetable Stock Cube
300ml Boiling Water
Salt and Black Pepper
A little Solesta Olive Oil
Find your ingredients online on Click & Collect or find your nearest store using our Store Finder.
Method
Peel the butternut squash and cut in half lengthways, remove the seeds and pith, then chop into small chunks.
Peel and finely chop the onion.
Peel and finely chop the garlic.
Wash and chop the celery into small chunks.
Dissolve the stock cube in the boiling water.
Cut the chillies in half lengthways, remove the seeds (or leave some in if you like your chilli very hot) and then chop finely.
Sauté the onion with a little oil in the saucepan for 2-3 minutes, then add the chopped chilli, garlic, celery and butternut squash and stir well.
Add the tomatoes and vegetable stock.
Sprinkle over the paprika and season with some black pepper and salt, then cover and cook for 20 minutes.
Meanwhile, drain the chickpeas and the red kidney beans.
Add these to the chilli and cook for a further 10 minutes.