A deliciously vegan way to start the day that will keep you full until lunchtime.
Cacao and Coconut Smoothie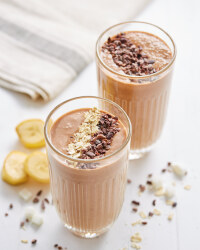 Recipe Information
Ingredients
1 tsp Cacao Powder
1 Small Banana
200ml Reduced Fat Coconut Milk
15ml Lemon Juice
Oats and Cacao Nibs to decorate
Method
Peel and chop the banana.
Put the banana into the nutri-blender along with the cacao powder, coconut milk and lemon juice and blend.
Serve in a glass with a sprinkling of oats and cacao nibs.