Crunchy chewy Florentines half covered in melted milk chocolate.
Florentines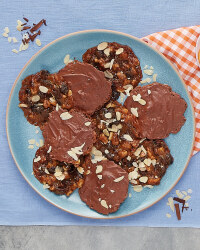 Recipe Information
Ingredients
50g Butter
50g Soft Dark Brown Sugar
50g Golden Syrup
50g Plain Flour
50g Dried Cranberries
25g Raisins
50g Walnuts, chopped
20g Flaked Almonds
150g Milk/Plain Chocolate
Method
Pre-heat the oven to 160°C Fan/Gas Mark 4.
Place the butter, sugar and syrup into a small, heavy based saucepan and stir over a low heat until melted, then remove from the heat.
Slowly whisk in the flour, then add the remaining ingredients, except the almonds and chocolate.
Drop teaspoons of the mixture onto a greased and lined baking tray, leaving space for the mix to spread.
Gently flatten the Florentines with the back of a teaspoon and sprinkle with flaked almonds.
Bake for 10-12 minutes until just set. Allow to cool a little, then carefully place on a wire tray.
Melt the chocolate in a bowl over a pan of simmering water.
Turn the Florentines over and spoon over the chocolate. When the chocolate is set, turn and serve the Florentines fruit side up.