You don't need to be a veggie to enjoy these delicious baked treats.
Loaded Sweet Potatoes with Crunchy Veg Slaw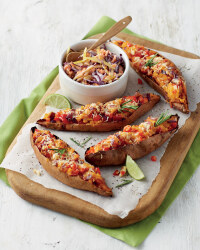 Recipe Information
Ingredients
4 Sweet Potatoes
1 tbsp Olive Oil, plus extra for frying
1 Red Pepper, deseeded and finely diced
1 Red Onion, diced
50g Grated Mozzarella Cheese
2 Carrots
1 Yellow Pepper, deseeded and finely sliced
¼ Red Cabbage
1 tsp Wholegrain Mustard
50g Crème Fraîche
Method
Pre-heat oven to 200°C/400°F/Gas Mark 6.
Line a baking tray with tin foil and pierce potatoes all over with a fork.
Place onto the tray, drizzle over the oil and bake for 45 minutes, until cooked through, then allow to cool.
Heat a little oil in a small frying pan, add onion and red pepper and gently fry until golden, then set aside.
Cut potatoes in half and scoop out the flesh into a mixing bowl.
Place the potato skins back onto the baking tray and return to the oven for 15 minutes to crisp up.
Add onion and red pepper to the mixing bowl with the potato flesh and mix together.
Add a little salt and pepper to taste.
Spoon the filling into the potato jackets and top with a little grated cheese.
Bake the potatoes for a further 15-20 minutes, until the cheese is melted and golden.
Slaw:
Peel and either grate or finely chop carrot.
Finely shred cabbage.
Place carrot, cabbage, yellow pepper, crème fraîche and mustard in a bowl and mix together.
Season to taste and place in the fridge until ready to serve.