Get game, set and match ready with these delicious Wimbledon inspired recipes.
Tennis Ball Biscuit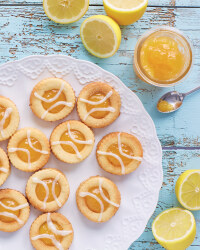 Recipe Information
Ingredients
280g Greenvale Unsalted Butter, softened
150g The Pantry Caster Sugar
400g The Pantry Plain Flour
1 Egg
1 tsp Vanilla Extract
Zest 1 Lemon
5 tbsp Icing Sugar (+ a few drops of water)
411g Jar Grandessa Lemon Curd
Method
Cream the butter and the sugar together with a wooden spoon, then add the egg and beat. Once combined, add the vanilla extract and the lemon zest.
Sift in the flour and mix until doughy. Turn out onto a floured surface and divide into 2 balls. The mix will be quite soft; wrap in cling film and leave to chill in the fridge for an hour to make more manageable.
When the dough has chilled pre-heat the oven to 180˚C/350˚F/Gas Mark 4. Then, on a floured surface, roll the dough 3mm thick. Using a 5cm round cutter, cut 30 circles and place these onto 2 paper-lined baking trays.
Bake for 10-12 minutes until the biscuits are light golden (they will still be slightly soft but will crisp when cooled).
In the meantime, take the second ball of dough and roll out 3mm thick. Using the 5cm cutter cut another 30 circles. Using a 3cm cutter, cut a circle out of the middle of them, creating doughnut-shaped biscuits. Bake for 8-10 minutes.
Once cooled and crisp, place a small teaspoon of lemon curd on each circular biscuit and then place a doughnut-shaped biscuit on top, so the lemon curd is visible.
Add a few drops of water to the icing sugar to create a thick (but can still be drizzled) icing and drizzle a curved line on each side of the biscuit to create the look of a tennis ball.
Store in an airtight container.