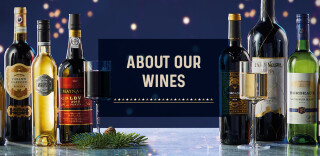 About Our Wines
Our experts have travelled the globe tasting, testing and forging close relationships with suppliers to bring you a truly amazing range of wines. There's something for every palate, budget and occasion – and whether it's an everyday red, an award-winning white from our Exquisite Collection or something special and sparkling for a celebration, Aldi gives you the very best quality at the very best price. No wonder we were named Multiple Wine Retailer of the Year in 2015, 2016 and 2017.
Our wines from around the world
New world, old world, across the world – we work with some of the best suppliers on the planet to bring you a superb choice of luscious reds, fruity whites and fantastic rosés from every wine-making region imaginable!
Create your own case
When you buy your wine case online from Aldi, you have the freedom to choose whatever wines you like. Mix and match reds, whites, rosés and bubbly and get free standard delivery to any UK mainland address when you spend over £20.