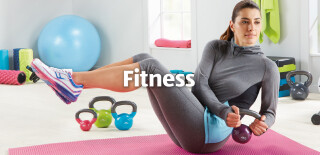 Stay active with our amazing fitness Specialbuys
Get in shape for the summer with our amazing fitness Specialbuy range. From kettlebells and foam rollers, to fitness gear and MP3 earphones, you'll find all the kit for your workout needs.

Shop the fitness Specialbuy range at Aldi and find great value on essential home gym equipment. Everything is covered, from vibrating foam rollers to waterproof MP3 earphones and Men's fitness T-shirts. For the ultimate body workout, take home the 6-in-1 core trainer and really see the effects take shape. Buy our latest fitness specialbuys online or in store now. Don't miss out, when they're gone, they're gone.
Fitness Equipment
Shape up and sweat it out with these home gym essentials. From a vibrating foam roller to a 6-in-1 core trainer, your body will be feeling the benefits before you know it.
Fitness Clothing
With our amazing range of fitness clothing, which includes Ladies' fitness tights and Men's fitness T-shirts, you'll be going strong from warm up to warm down with every workout.
Tips for great health and fitness
Staying in great shape is about eating well and staying active. Here are some ways you can choose healthy food and make the most of your exercise.
Never miss out on a Specialbuy
Every Sunday and Thursday, we announce our latest range of exclusive offers, which are available in store or online. Make sure you're one of the first to know about our next batch of fitness Specialbuys, because once they're gone, they're gone. Sign up now.
Eat well with these tasty recipes
Making healther choices doesn't mean sacrificing flavour. Try these delicious options and feel good all day.