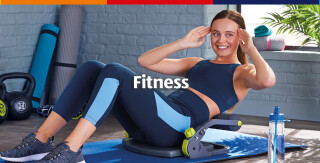 Great ways to keep fit without stretching your budget
Whatever your fitness regime, we've got just the equipment you need to keep you in tip top shape. From Kettlebells to a Battle Rope to a Rowing Machine, ALDI's fitness Specialbuys can help you to create your very own home gym at amazing value for money prices.
Rowing Machine
This amazing value, steel-framed rowing machine offers computer-controlled tension and displays 7 functions on its LCD screen. It includes 16 programmes, an app for a training video and it can keep track of the performance of up to 5 different users.
6 in 1 Multi Trainer
From scissor kicks to sit ups and crunches, this is a great way to strengthen your abdominal core without visiting a gym! With adjustable resistance, this trainer works as hard as you do, with a workout DVD and exercise chart to check your progress.
12m Battle Rope
It's time to give your body a full workout! With its comfortable grip handles you can work to improve your fitness level every day at a pace to suit you. It's a great, low impact way to burn off those excess calories!
Fuel up for fitness
Making sure you eat healthily is just as important as exercise. Try these tasty ideas for before and after your workout.