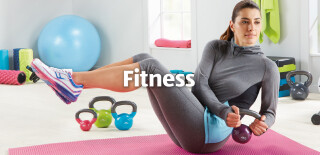 Stay in great shape with our amazing fitness Specialbuys
Looking after your health doesn't have to be expensive. Our regular fitness Specialbuys offer a great range of gym equipment, with everything you need for your new year fitness regime. There's weightlifting and fitness gear, gym clothes, wearable fitness gadgets and gym bags…plus, our weekly Super 6 fruit and veg offers make it easy to eat well and stay healthy.

Tips for great health and fitness
Staying in great shape is about eating well and staying active. Here are some ways you can choose healthy food and make the most of your exercise.
Never miss out on a Specialbuy
Every Sunday and Thursday, we announce our latest range of exclusive offers, which are available in store or online. Make sure you're one of the first to know about our next batch of fitness Specialbuys, because once they're gone, they're gone. Sign up now.
Eat well with these tasty recipes
Making healther choices doesn't mean sacrificing flavour. Try these delicious options and feel good all day.