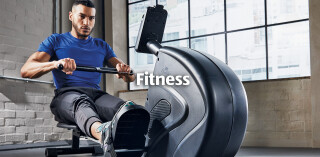 Our amazing fitness range.
Whatever your fitness regime, we've got just the equipment you need to keep you in tip-top shape. Whether you're looking for the ultimate exercise machine, dumbbells and plates, mats and more, Aldi's fitness Specialbuys can help you create your very own home gym at amazing value-for-money prices.
It's convenient

No need to get all your stuff together and drive to the gym. All you do is walk to another room, making it easier to fit into a busy lifestyle.

It's flexible

Your home gym's open 24/7, so you can exercise whenever you like. Little and often if that's best for you - and there's no waiting for equipment!
It's comfortable

You not only choose what exercises you do, but also how you dress, the decor and the music or TV show you work out to. So it's perfect for you.

It's just you

There's no-one judging you, no need to worry about looking silly, no distractions - you can just focus on getting your fitness on track.
Exercising to get results.
Working out at home is easy if you've got a suitable space to move freely and set up whatever equipment you're using. Simple exercises just need an Exercise Mat or Kettlebells, Dumbbells or Barbells, or you might prefer to use more sophisticated equipment such as a rowing machine, exercise bike, FITT Cube or Power Rack.
Weighted Bag – 20KG
Train your whole body and level up your strength training with this weighted bag. It's 5 handles make it extremely versatile for your workouts and its soft construction spreads the load making it comfortable to train with.

Shop now
High-quality home equipment
Sculpt, tone and ramp up that heart rate with a fully equipped, at home gym. Our range has got your total-body workouts covered so you can get fit, for less.

Discover a whole range of amazing things with incredibly small prices.