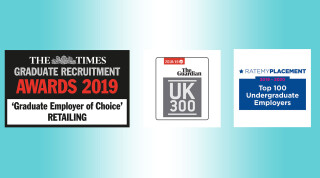 An award-winning employer
Attracting and recruiting new talent is also something we've been winning plenty of recognition for in recent times. Our success is evident at all levels.
In fact, Aldi is 3rd in the Times Top 100 List of Graduate Employers for 2019/2020, placing us 1st amongst retailers. We are also the Times Top Graduate Employer of Choice for Retailing. Meanwhile, in Ireland, we were ranked 24th in the gradireland Ireland's 100 Leading Graduate Employers.
No wonder we're so proud. The Times Top 100 rankings are compiled every year, based on feedback from over 18,000 graduates. Since they established in 1999, no retailer has been ranked in the top three and we've now featured in the top ten every year since 2007.
We also run an Industrial Placement programme for university students, offering candidates the opportunity to experience the retail sector prior to graduation. It's the same story of commitment and success for our apprenticeships. We're ranked in the top 100 for both Rate My Placement and Rate My Apprenticeship.
We have also been shortlisted for the Grocer Gold 'Employer of the Year' in 2019!
Click here to meet our employees.