Transform your leftover roast into a lip-smacking Roast Chicken Frittata with onion, eggs, paprika and peppers.
Roast Chicken Frittata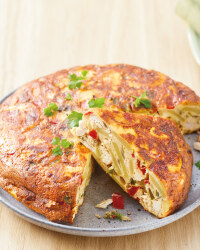 Recipe Information
Ingredients
200g leftover Roast Chicken
6 x Eggs
1 x 400g pack chilled Potato au Gratin
40ml Olive Oil
1 x Red Pepper
1 x Green Pepper
1 x Red Onion
1 x tsp Paprika
Sea Salt and Black Pepper
Method
Finely chop the red and green pepper – discard any seeds and white pith. Peel and finely chop the red onion.
In a large, heavy frying pan, sauté the peppers and onion in the olive oil for a few minutes until slightly softened.
Crack the eggs into a bowl and whisk. Add the chicken and potato au gratin to egg mix, season with some salt and pepper and add the paprika and stir through. Pour this into the pan with the peppers and onions, then stir through.
Cook gently for a few minutes until the bottom and the sides are cooked.
Heat your grill to high. Put the frying pan under the grill and cook until browned and puffed up. Check the frittata is cooked through with a knife – if not, cook a little longer on the hob.
Slice and serve with a green salad.